French Buttercream Macarons
Jump to Recipe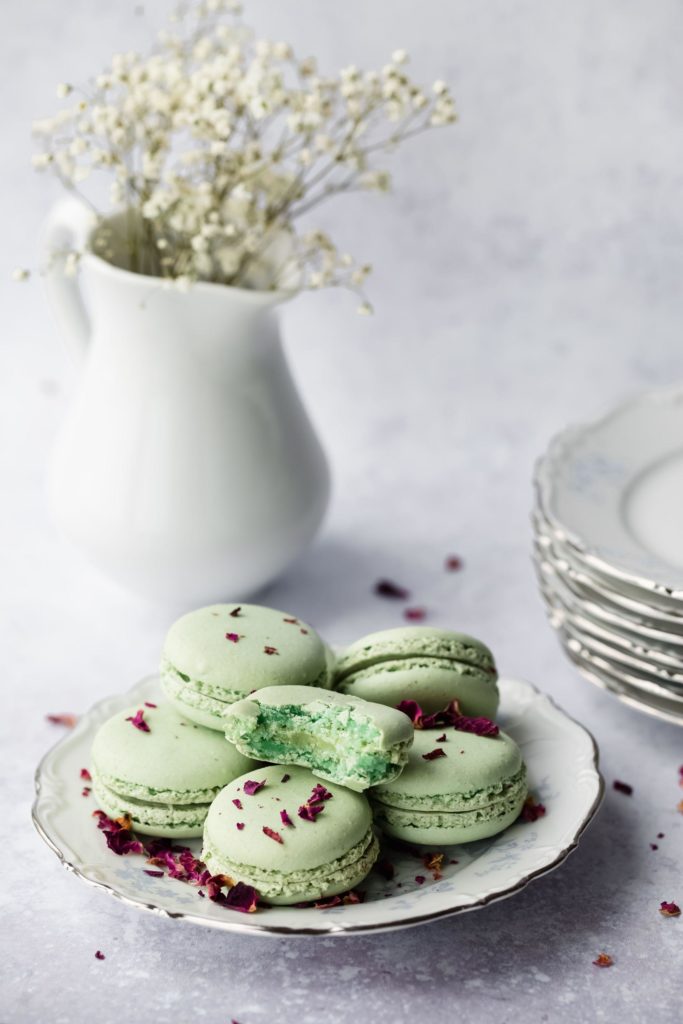 Macarons are a type of sweet confection that originated in France, and they are a popular treat around the world today. The exact origin of the macaron is not clear, but it is believed to have been created in Italy and brought to France by Catherine de' Medici in the 16th century. The French version of the macaron is made with almond flour, egg whites, and sugar, and it has a smooth, round shell with a crispy exterior and a soft, chewy interior.
Macarons have become increasingly popular in recent years, and you can now find them in a wide range of flavors and colors. Some popular flavors include vanilla, chocolate, raspberry, pistachio, and lemon, and they are often decorated with colorful sprinkles, edible glitter, or other embellishments.
Making macarons can be a bit tricky, as the batter is very sensitive and requires precise measurements and careful mixing. However, with practice and patience, you can learn to make beautiful and delicious macarons at home.
Macarons can be filled with a wide variety of fillings, in addition to French buttercream, including ganache, jam, curd, cream cheese, or fruit compote. The filling can greatly influence the flavor of the macaron, and many bakers experiment with different combinations to create unique and delicious treats.
Macarons are often served as a dessert or snack, and they can be found in many bakeries and pastry shops around the world. They are also popular at special events such as weddings, baby showers, and birthday parties.
In France, there are several different varieties of macarons that are popular in different regions. For example, in the town of Montmorillon in western France, they are known for making macarons with a fruit jelly filling, while in the town of Nancy in northeastern France, they make macarons that are flavored with almond paste and filled with jam or ganache.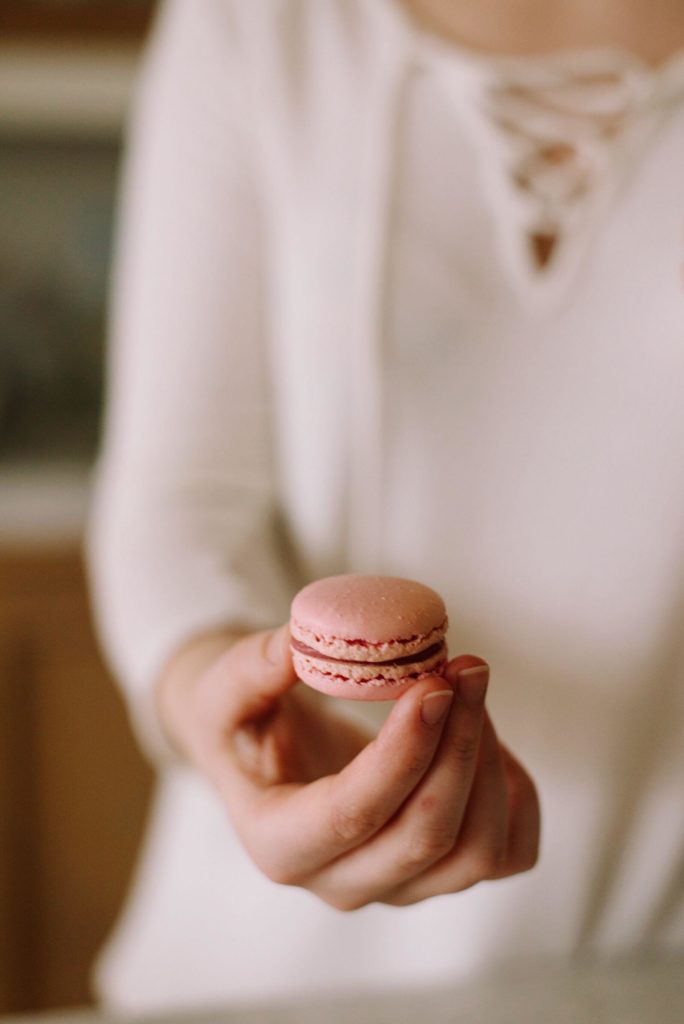 Some people confuse French macarons with macaroons, which are a type of cookie made with shredded coconut and often dipped in chocolate. While both treats are delicious, they are quite different in terms of ingredients and preparation.
French macarons can be quite delicate and are best stored in an airtight container in the refrigerator to preserve their freshness and texture. They should be allowed to come to room temperature for a few minutes before serving, to allow the flavors to fully develop.
French Buttercream Macarons
Cuisine: Dessert, French
Difficulty: Difficult
Macarons sitting time in room temp.
20-30
minutes
Cookie Size circles
1.5
inches diameter
Ingredients
French Buttercream Filling

4 egg yolks

1/2 cup granulated sugar

1/4 cup water

1 cup unsalted butter, at room temperature and cut into small pieces

1 teaspoon vanilla extract



Macarons

1 cup powdered sugar

3/4 cup almond flour

2 large egg whites, at room temperature

1/4 cup granulated sugar

Food coloring (optional)
Directions
For the Macarons
Preheat the oven to 325°F (160°C) and line two baking sheets with parchment paper.
In a medium bowl, sift together the powdered sugar and almond flour. Set aside.
In a large bowl, beat the egg whites with an electric mixer until soft peaks form.
Gradually add the granulated sugar, continuing to beat until stiff peaks form.
Fold the sifted powdered sugar and almond flour mixture into the egg whites, being careful not to overmix. Add food coloring, if desired.
Fill a piping bag fitted with a round tip with the macaron batter.
Pipe the batter onto the prepared baking sheets, making circles about 1.5 inches in diameter.
Tap the baking sheets lightly on the counter to remove any air bubbles.
Let the macarons sit at room temperature for 20-30 minutes to allow the shells to dry out slightly. They should form a skin on the surface.
Bake the macarons for 15-18 minutes or until they are firm and can be lifted off the parchment paper without sticking. Let cool completely on the baking sheets.

For the French buttercream Filling
In a medium heatproof bowl, whisk the egg yolks until smooth.
In a small saucepan, combine the granulated sugar and water. Bring to a boil over medium-high heat and cook until the sugar syrup reaches 238°F (114°C) on a candy thermometer.
Slowly pour the hot sugar syrup into the bowl with the egg yolks while whisking continuously.
Continue to whisk until the mixture is thick, pale yellow, and has cooled to room temperature.
Add the room temperature butter, a few pieces at a time, and whisk until it is fully incorporated.
Whisk in the vanilla extract.
Fill a piping bag fitted with a round tip with the buttercream.

To assemble
Pair up the macaron shells by size.
Pipe a small amount of buttercream onto the flat side of one macaron shell.
Sandwich the other macaron shell on top, pressing gently to spread the buttercream to the edges.
Repeat with the remaining macaron shells and buttercream.

TIPS
Use a kitchen scale to measure the ingredients for the macarons as it will ensure accuracy and consistent results.
Be patient when folding in the powdered sugar and almond flour mixture to the egg whites, as overmixing can cause the macarons to spread and lose their shape during baking.
To make sure the macarons are the same size, use a template or draw circles on the parchment paper before piping the batter.
When making the French buttercream, make sure to let the sugar syrup cool slightly before pouring it into the egg yolks, to avoid cooking the eggs.
If the buttercream appears to be curdled or separated, continue to whisk it vigorously until it comes together.
Notes
Store the assembled macarons in an airtight container in the refrigerator for up to five days, or freeze them for longer storage.
It's important to let the macaron shells cool completely before filling them with the buttercream, otherwise the filling may melt or become too soft.
For best results, use high-quality almond flour that is finely ground and sifted to remove any large pieces or lumps.
You can experiment with different colors and flavors for the macaron shells and buttercream, such as cocoa powder, fruit puree, or extracts.
If you're having trouble with the macarons sticking to the parchment paper, try using a silicone baking mat instead.
Don't be discouraged if your first batch of macarons doesn't turn out perfectly – it can take a few tries to get the hang of the technique and find the right oven temperature and baking time for your particular oven.
Enjoy the process and have fun! Making macarons can be a fun and rewarding baking project, and the end result is always worth the effort.