The BEST BBQ Chicken Pizza
Jump to Recipe
The origins of BBQ Chicken Pizza are somewhat unclear, but it is generally believed to have been first created in California in the 1980s or 1990s. One popular story is that it was invented by chefs at the California Pizza Kitchen (CPK) chain, who were looking to create a pizza that incorporated barbecue sauce and chicken, two popular ingredients in the region.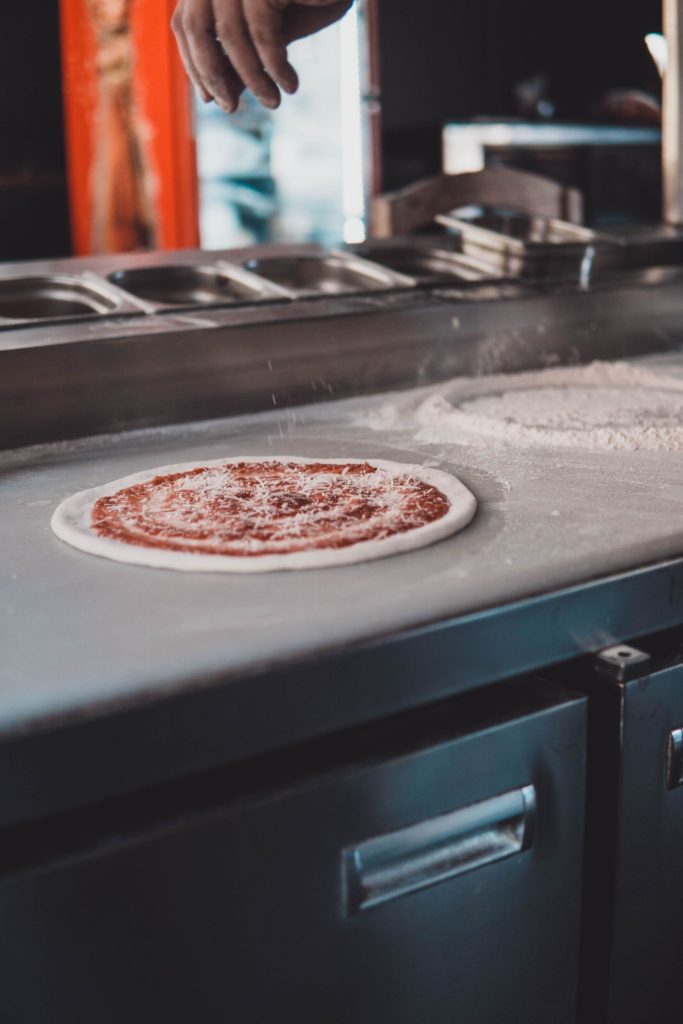 CPK's BBQ Chicken Pizza quickly became a hit and has since spread in popularity to other parts of the country and around the world. Today, many pizzerias and restaurants offer their own versions of the dish, and it has become a staple of American pizza culture.
BBQ Chicken Pizza typically consists of a pizza crust that is topped with barbecue sauce, shredded or diced chicken, red onions, and cheese. Additional toppings can include bacon, jalapenos, cilantro, and roasted red peppers, among others.
While it is not a traditional Italian pizza, BBQ Chicken Pizza has become a popular and beloved dish in its own right, and its unique combination of flavors and textures make it a tasty and satisfying meal for pizza lovers everywhere.
Note that the calorie count for the BBQ Chicken Pizza will depend on the specific brands and amounts of ingredients used, as well as the size of the pizza and number of servings. Additionally, the difficulty level may vary depending on your experience with making pizza dough or working with yeast-based recipes.
The BEST BBQ Chicken Pizza
Cuisine: American
Difficulty: Easy, Medium
This has become a Friday night tradition in our home! We hope you enjoy it as much as we do.
Ingredients
1 pizza dough (not frozen)

1/3 cup BBQ sauce, more if needed

1-2 cups shredded chicken

2 cups mozzarella cheese

1/4 cup red onion slices

Roasted red tomatoes

Optional toppings: chopped cilantro, sliced jalapeños, crumbled bacon
Directions
Preheat the oven to 425°F (218°C).
Roll out the pizza dough on a lightly floured surface to your desired thickness and shape.
Transfer the dough to a baking sheet or pizza stone.
Spread the BBQ sauce evenly over the pizza dough, leaving a small border around the edges.
Sprinkle the shredded chicken over the BBQ sauce.
Add the mozzarella cheese over the chicken.
Scatter the red onion slices and roasted red tomatoes on top.
If desired, add any additional toppings such as chopped cilantro, sliced jalapeños, or crumbled bacon.
Bake the pizza in the preheated oven for 12-15 minutes, or until the crust is golden brown and the cheese is melted and bubbly.
Remove the pizza from the oven and let it cool for a few minutes before slicing and serving.
Notes
You can use leftover cooked chicken or a rotisserie chicken to make this pizza, or cook and shred your own chicken breasts or thighs.
You can also use a pre-made pizza crust if you don't want to make your own dough from scratch.
For a smokier flavor, you can try using a hickory or mesquite-flavored BBQ sauce.
If you don't have roasted red tomatoes, you can substitute with fresh cherry or grape tomatoes that have been sliced in half and roasted in the oven with a little bit of olive oil and salt for about 15-20 minutes.
Make sure not to overload the pizza with too many toppings, as this can make the crust soggy and prevent it from cooking properly.
Feel free to adjust the amount of BBQ sauce and toppings based on your personal preferences.
Leftover pizza can be stored in the refrigerator for up to 3 days, or frozen for up to 1 month. To reheat, simply place in a preheated oven at 350°F (177°C) for 10-15 minutes, or until heated through.